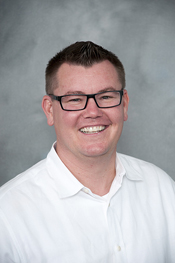 R.W. Smith & Co.'s Senior Business Development Manager, Jason Sem, was named Dealer Sales Rep of the Year by FE&S Magazine in May. He is the first at R.W. Smith to be recognized for this prestigious award.

For more than nine years, Jason has built a diverse client base and established long-lasting relationships with his customers through dedicated service, friendship and trust. Starting from a busser to now a Senior Business Development Manager, Jason has proven that if you work hard and commit yourself every day, you can achieve great things.
We asked Jason to share his journey in the foodservice industry, his relationships with clients and what this award means to him.
1. Please tell us what inspired you to embark on a career in foodservice.
It goes back to one of my first jobs in the restaurant industry as a busser. I was lucky to have a great mentor in the business, Gerard Guidice. He taught me the ropes and brought me up thru the ranks of the different positions within the restaurant industry. He also taught me how rewarding the business of the foodservice industry can be. I worked for him for 10+ years for multiple restaurants and venues. I still look back today on my time with him as inspiration on how I can improve what I am doing today. He taught me that you can never stop learning in this industry and he still inspires me today as we have remained great friends over the years.
2. What is it about the industry that drives your enthusiasm and passion?
There is something new every day. Nothing is like the day before. It is always exciting and new.
3. Cultivating strong relationships with our Customers is important at R.W. Smith. How do you go about building trusting partnerships with the Accounts that you serve?
Earning the trust of a customer is a huge key to my success and l think I go about this naturally. There are people that you click with and want to be more than just a Rep/Client relationship. If you can become interested in each other's lives, the trust part is easy. Doing what I say I am going to do for the customer is also very important as well as having great communication on both sides. I have to be able to stop and listen to what the customer is saying and give advice on things that are not what I am thinking. Once I do this then we can go into other suggestions I may have. Making sure the customer is heard is very important to having effective sales success.
4. You are the first RWS Business Development Manager to be recognized as Dealer Rep of the Year - what does this mean to you?

I am not only honored, but humbled by it when I started with this company 9 1/2 years ago and I had no idea where I would be within the company. All I can say is I am not a one man show. There are many people behind the scenes that helped me earn this award. My customer service support person, Mark Sanford, has been a huge help for the past several years. As well as our Warehouse, Purchasing, Credit departments, the management team from the top down and many others have helped me in smaller ways. Without the support of these teams, I could not do what I do.
5. Being a Dealer Sales Rep reflects your professional character. Please share with readers an interesting fact that reveals your unique personality!
I like to take long walks at sunset on sandy beaches with my wife! It really recharges me for what is going to happen next.
A company-wide congratulations Jason for this well-deserved honor!