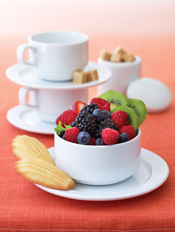 R.W. Smith & Co. has expanded its tabletop collections to include new Alani Porcelain dinnerware. Enhance the dining experience with brilliant white dinnerware that combines timeless style with long-lasting durability.
Designed to inspire today's restaurants, hotels and catering services, Alani sets the standard in concept, design and style. Show off the colors and textures of food on a classic white backdrop to create an enticing dining experience. This versatile collection is suitable for both special occasions and casual settings.
Alani dinnerware is crafted of exceptionally durable porcelain and is resistant to scratches, chips and discoloration. Pieces in this collection include plates, bowls, cups, saucers and a selection of accompaniment items. Flat plates come with a two year chip warranty.
View Alani Brochure › | Shop the Alani Collection ›