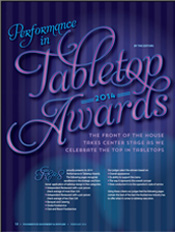 The employee-owners of R.W. Smith & Co. extend their congratulations to the winners and nominees of 2014's FE&S Performance in Tabletop Awards.
Earlier in February, the magazine revealed the award winners and honorable mentions of the industry's most prestigious award. The annual tabletop awards recognize the best of the best in the foodservice industry, with emphasis on "excellence in the strategic and functional application of tabletop design."
Criteria used in judging the nominated installations fell into four categories: overall appearance, ability to support the menu, how well it reflects the overall concept, and its conduciveness to the operation's service style.
We're pleased to announce that two R.W. Smith valued customers received honorable mentions for tabletop execution.
Dogwood Café at Westminster Manor, Austin, TX
Specifying Team: James Hawley, Senior Business Development Manager
Dinnerware: Villeroy & Boch Affinity, Urban Nature, Cera, Modern Grace and New Wave Premium; Steelite Creations Glass and Neo Platters
Flatware: Oneida Sant' Andrea – Fulcrum
Glassware: Steelite Bormioli
Accessories: American Metalcraft, Browne-Halco, Chilewich, Cole & Mason, DW Haber, Villeroy & Boch
Frisco Gun Club, Frisco, TX
Specifying Team: Trac Mueller, Senior Business Development Manager and Charley Turo, Senior Business Development Manager
Dinnerware: Venu Dinnerware
Flatware: Corby Hall Troon
Glassware: Cardinal Cabernet; Tria Flamenco
Accessories: Churchill China, American Metalcraft, Risch, Myco Tableware
To see the full list of this year's award winners, check out pages 18-33 of the FE&S Magazine February 2014 online edition.